Welcome to Sree Balaji College of Nursing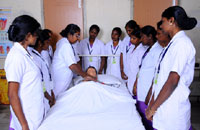 Sree Balaji College Of Nursing is completed 25 years and we established in 1992 By Sri Lakshmi Ammal Educational Trust The Moto of "Service To Mankind Is Service To God College is accreditated by Tamilnadu Nurses and Midwives council and Indian Nursing council, We have Placement Cell to help our students to place in both National and International level In the year of 2015 our institution accredited with NAAC ' A' Grade
read more
Vision
Our goal is to be produce international standard academic health centre in Nursing, we are building on our own cultural values, enhancing humanity, transmitting our heritage, creating innovation in Nursing practice, education and research

Mission

• Discovering new and vital knowledge about information


• Educating the next generation of leaders in the information professions


• Developing new scholars who will advance knowledge


• Improving society through service and collaboration and Applying human-centered values to all our work



Philosophy

• We the faculty of Sree Balaji College of Nursing, present herein our shared values and perspectives so that these may guide us in our teaching, research, and curricular decision--‐making.


• We believe that the advancement of the profession of nursing depends upon the generation of knowledge through scholarly inquiry and its dissemination in curricula that prepare students for excellence and leadership in nursing & society


• We believe that nursing is a caring health profession, whose practice is built on knowledge, theory, and research. The nursing profession provides indispensable health services to persons, families, groups, and communities


• We recognize and value the contributions of our clinical colleagues in nursing and other professions and collaborative partners in the community who support our missions of education, research, and scholarly practice


• The faculty believes health policy is an integral part of effecting change in a democratic environment. To that end, the faculty is committed to contributing to the formulation of health policies at the local, state, national, and international level to optimize health care delivery services.