Trust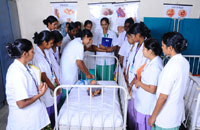 Sri Lakshmi Ammal Educational Trust was established in 1984, has set before itself the noble ideal of establishing cardinal centers of professional education in various disciplines.

This centers offer our young men and women the right kind of opportunity to pursue professional courses of their choice.


The Trust intends to train the youth and transform them into excellent professionals, gifted with exemplary qualities of head and heart, so as to make them committed servants of the larger society.

Bharath Institute of Higher Education and Research was established under the aegis of Sri Lakshmi Ammal Educational Trust in 1988. The University is wedded to the grand task of promoting knowledge of science and technology among our youth in keeping with the astoundingly great strides made in these areas, accompanied by a high degree of excellence in respect of higher values and ethics of professional education, thereby producing professionals who will be the best in the world in their performing skills and dedication to the service of the people.