Facilities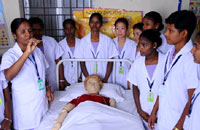 Sree Balaji College of Nursing has got excellent infrastructure facilities such as well ventilated spacious class rooms, well equipped laboratories for each department which helps to develop nursing skills, Library to acquire knowledge to follow evidence based nursing practice in nursing profession and to become eminent nurses. In addition our College has good Examination Hall, Seminar Hall and Auditorium.
The Co-curricular and extra-curricular activities to instill a spirit of competition and team instinct in the students.
Library:
The Library on the Sree Balaji College of Nursing is a well organized one with an adequate and good collections of books. It is fully equipped with modern tools of learning such as Computers, CD, CD-Roms, LCD projectors.
It has a reading hall well furnished and provided with a number of study oriented International and National Journals. The Library is open from all working days.
NATIONAL SERVICE SCHEME:
The National Service Scheme (NSS) is an Indiangovernment-sponsored public service program conducted by the Department of Youth Affairs and Sports of the Government of India. Popularly known as NSS, the scheme was launched in Gandhiji's Centenary year, 1969. Aimed at developing student's personality through community service, NSS is a voluntary association of young people in Colleges, Universities and at +2 level working for a campus-community linkage.View More in Detail...