Message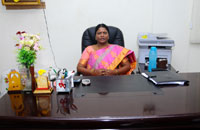 Dear Students,
I am happy that you are joining our Sree Balaji College of Nursing. The essential task of preparing you for a well qualified professional nurses to serve the humanity.
I am sure that you will make the best use of the programmes offered, facilities provided and opportunities created here, in your interest.
I am quiet confident that you will address yourself to the tasks of learning with a tremendous sense of involvement and come out successful with flying colours in your future endeavour.
Let me greet you at the beginning of this journey of yours towards the goal of a rewardingly successful career in the field of nursing.